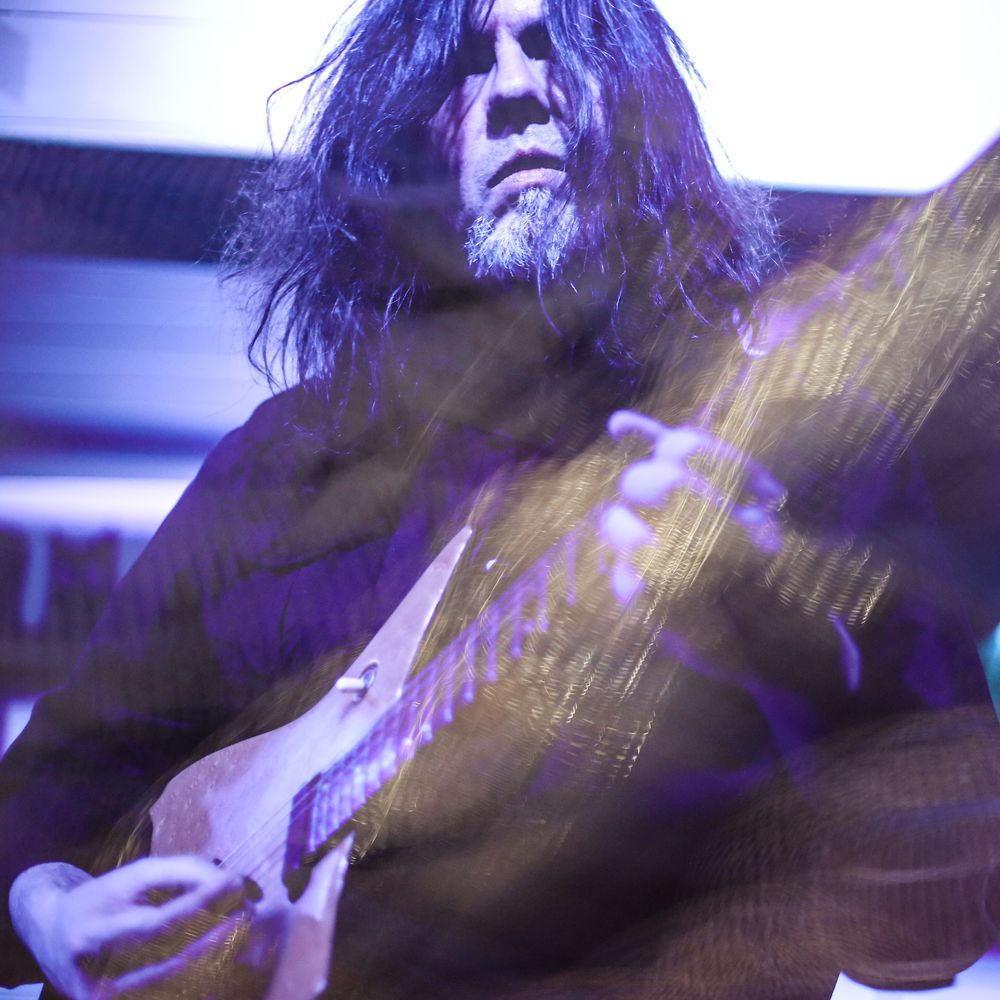 Ángel Ontalva is a guitarist and composer with an extended trajectory in creative musics, exploring the boundaries between progressive rock, experimental music, free improvisation, jazz or ethnic music, with an idiosyncratic language developed through decades of intereaction with different musical traditions and endless collaborations with musicians from all cultural and geographical background. 
He is also a painter and illustrator with a long career in visual arts in parallel with music.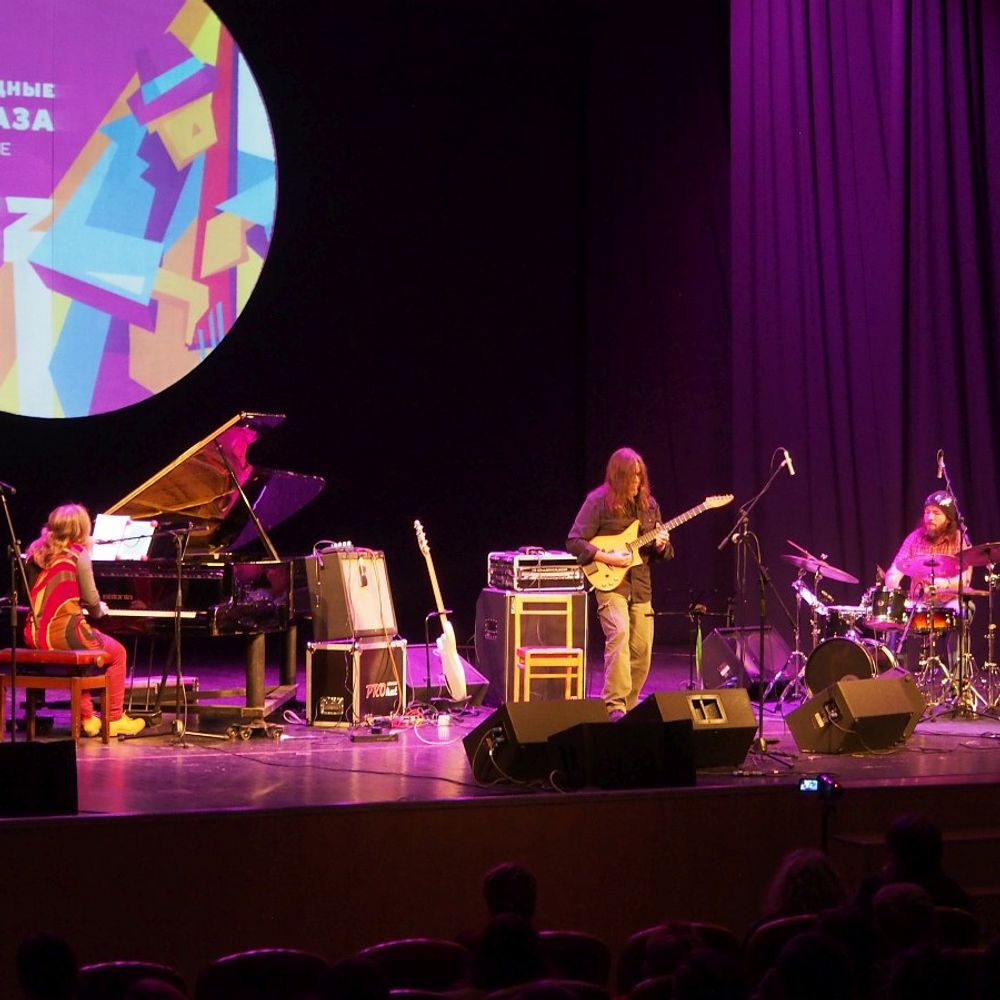 Ángel is better known for being the leader of the avant-progressive band October Equus, with seven released albums. Besides, he has released a trilogy of albums as a soloist (Mundo Flotante, Tierra Quemada and Angel on a tower) and he has released several albums with the space-prog russian band Vespero (Carta Marina, Sada and Olkhon, the first album of the power trio Seaorm with Vespero's rhythm section) and he has created a plethora of international projects, some of them documented in the Russian Series of octoberXart Records, of which Ángel is the founder.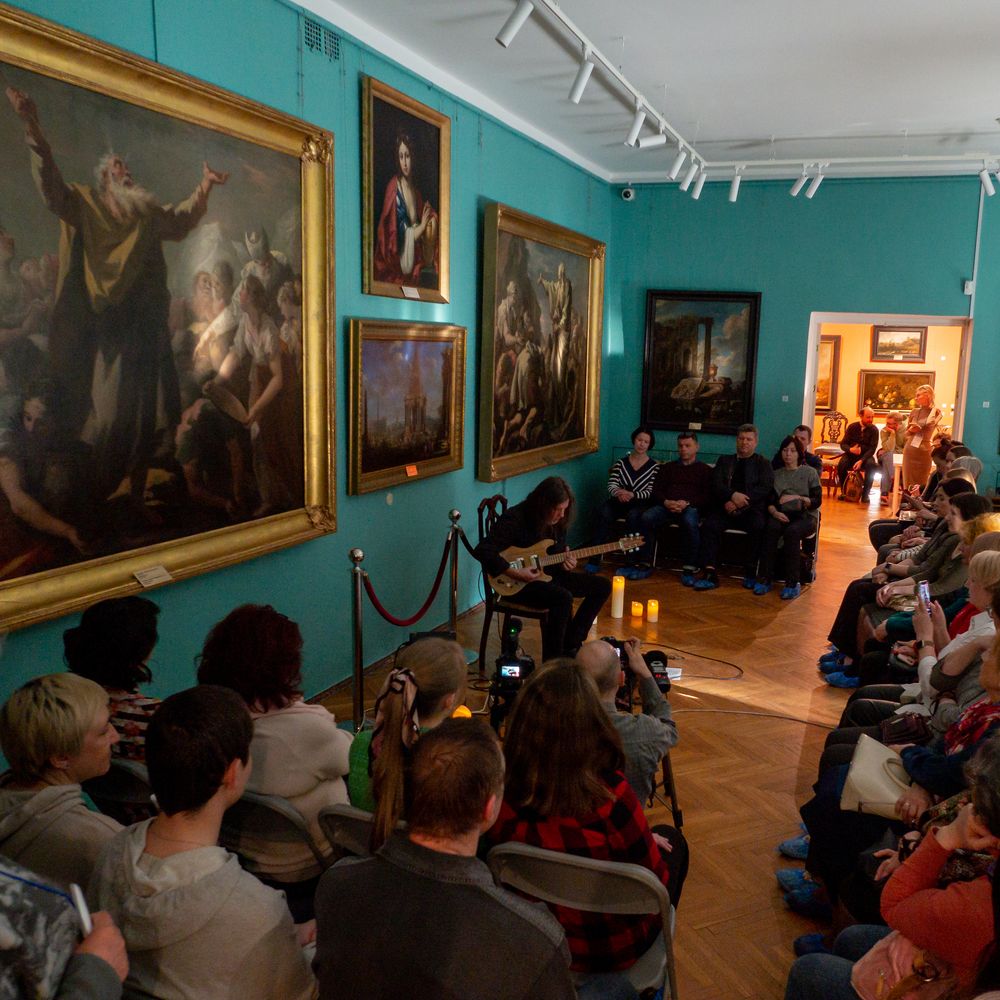 As a solo guitarist he uses to play his own compositions in an open way with wide space for improvisation, making of each concert an unique experience, always different, often using alternative tunings and extended or unusual techniques for to construct different ambiences and textures, always exploratory but putting emphasis on melody.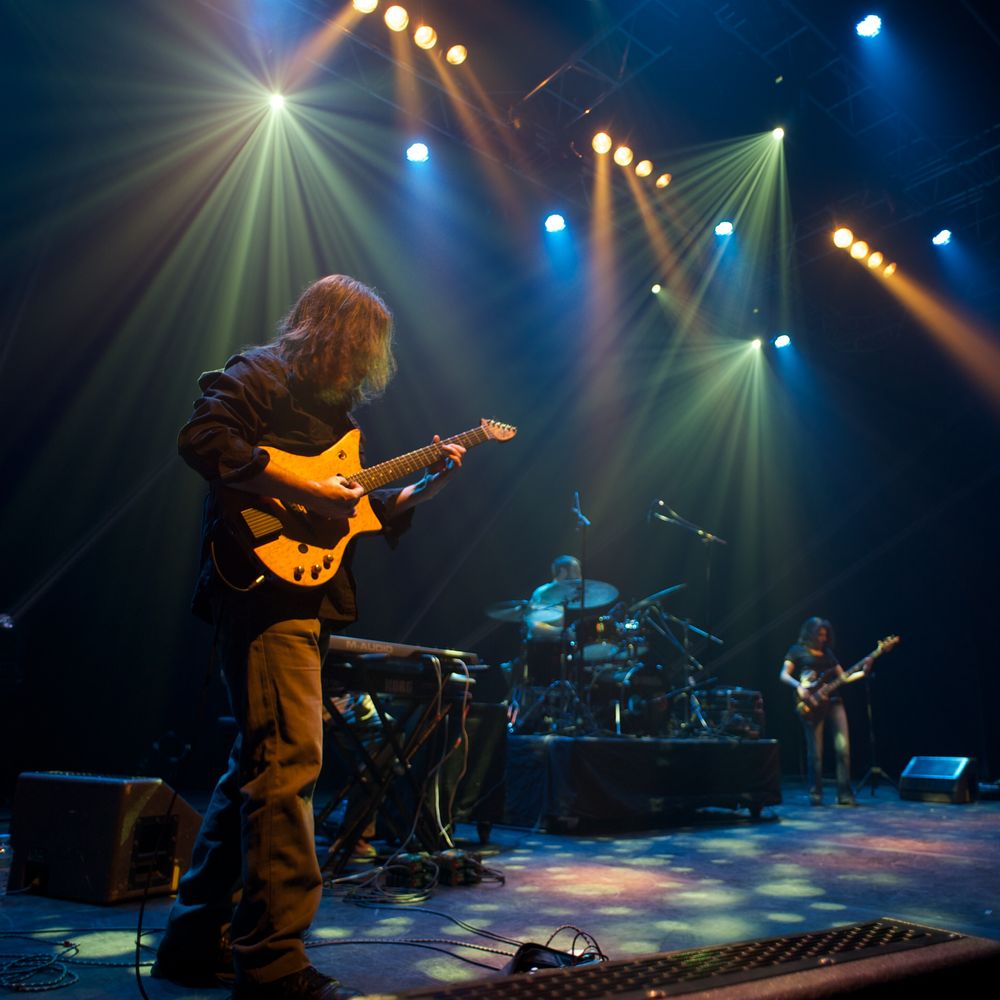 With October Equus, Ángel has participated at the more important european festivals dedicated to progressive rock and creative musics: Rock In Opposition Festival in France, Gouveia Art Rock Festival in Portugal, Freakshow and Zappanale in Germany, MamFest in Madrid or AltrOck Festival in Milan are a few of them. As a soloist, with other projects or collaborating with improvisers, performers or dance groups he played in Portugal, Italy, France, Switzerland, Germany, Romania, Finland and specially in Russia, where he did around 300 concerts in the last five years, in all its geography from St Petersburg to Vladivostok, twice as a member of the prestigious MuzEnergo Tour with a team of international artists and on his solo travels playing live and collaborating with dozens of russian artists of different styles. In October 2018 he organized the 1st octoberXart Records Festival at the legendary DOM of Moscow.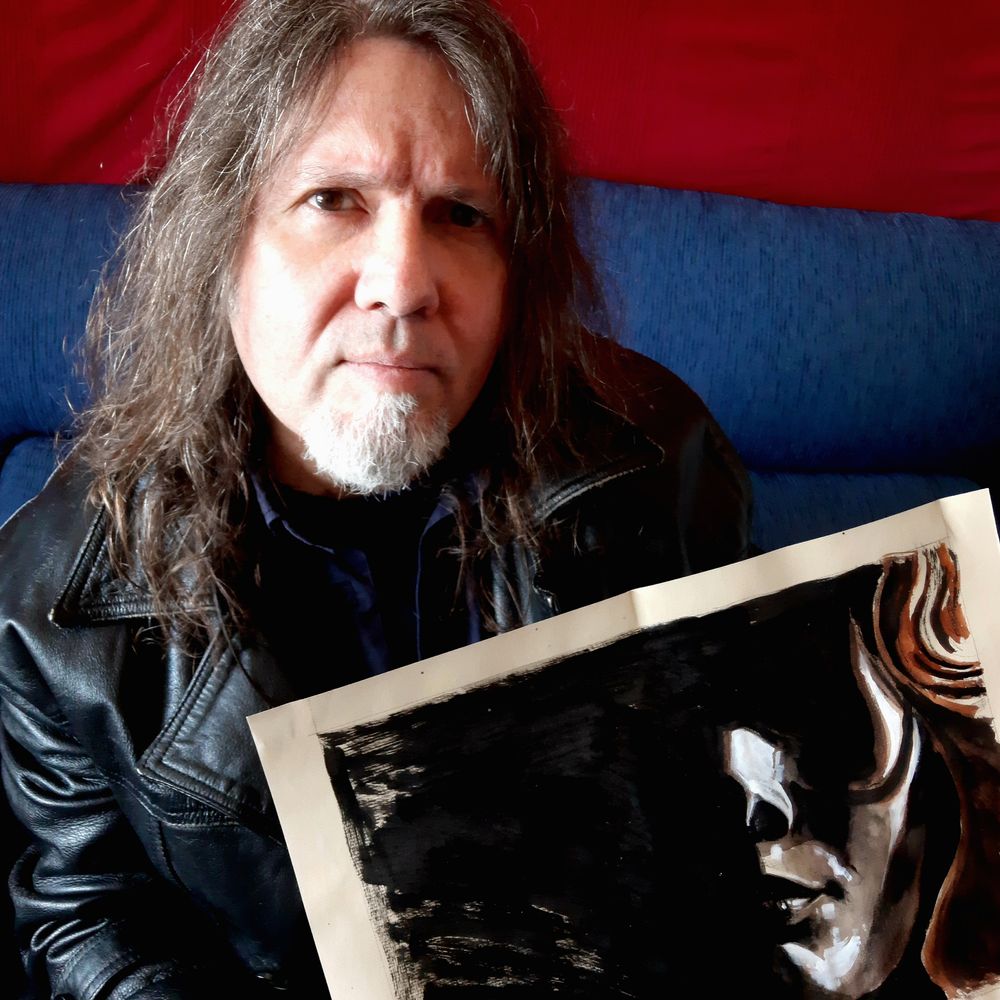 Formerly a draughtsman and painter, Ángel worked long time as a freelance animator and illustrator in parallel with music. At some point he decided to focus totally to music and stop his professional activity in the visual field. Years after his retirement, he was offered to make an exhibition in Nizhny Novgorod in 2017. He took this occasion as a comeback and since then he did seven exhibitions in Russia, in wonderful places as for example the Theatre of Opera and Ballet or the Khlebnikov Museum in Astrakhan.
Discography: 
official CDs 
October Equus -October Equus (Maracash 007, 2006) 
October Equus -Charybdis (RAIG R034, 2008) 
October Equus -Saturnal (AltrOck ALT 019, 2011) 
Ángel Ontalva -Mundo Flotante (octoberXart Records AO01, 2012) 
October Equus -Permafrost (octoberXart Records OE01, 2013) 
October Equus Quartet -Isla Purgatorio (Clamshell Records CR15, 2013) 
Ángel Ontalva -Tierra Quemada (octoberXart Records AO02, 2014) 
October Equus -Live at the RIO Festival (octoberXart Records OE02, 2015) 
Drop Dead Ugly Radio -Serious fun (Momentum Records 2016) 
OBO -Palace of Waiting (octoberXart Records RUS01, 2016) 
Ángel Ontalva & No Grooves -Blood moon tonight (octoberXart Records RUS02, 2017) 
Ángel Ontalva Vs. Priot Duo -Blue stone waves (octoberXart Records RUS03, 2018) 
Ángel Ontalva & Vespero -Carta Marina (VMS 003, 2018) 
Ángel Ontalva & Vespero -Sea Orm Liventure (VMS004, 2018) 
October Equus -Presagios (octoberXart Records OE03, 2019) 
Ángel Ontalva & Vespero -Sada (VMS006, 2020) 
Ángel Ontalva & Vespero guest Natasha Bllinova - Live at the Astrakhan State Theatre of Opera and Ballet (octoberXart Records RUS04, 2020) 
Seaorm - Olkhon (octoberXart Records RUS04, 2020) 
Ángel Ontalva - Angel on a tower (octoberXart Records AO03, 2021)
Seaorm - Forgotten shrines (octoberXart Records RUS05, 2022)
October Equus - Noches blancas, luces rojas (octoberXart Records OE04, 2022)
official CDrs 
October Equus -Memories Vol. 1 Live rehearsal 2009 (octoberXart Records mem01, 2012) 
Ofir -Memories Vol. 2 (octoberXart Records mem02, 2012) 
Ángel Ontalva -Land of rain and steel (octoberXart Records cdr01, 2013) 
Ángel Ontalva & Vasco Trilla -Balimonster (octoberXart Records cdr02, 2013) 
Marc Egea & Ángel Ontalva -Sorginak (octoberXart Records cdr03, 2013) 
Ángel Ontalva -Satellites (octoberXart Records cdr04, 2017)
selected digital releases 
Ángel Ontalva & the Sham Fonk Rhythm Section, 2013 
Ángel Ontalva -K-Faces Suite, 2014 
October Equus Russian Quartet -Live in Nakhodka, 20015 
Pailhe Ontalva Bulow Trio -Omsk, 2015 
No Grooves -Chelyabinsk, 2016 
Egea Ontalva Hall -Pájaros en el Abismo. 2016 
Alfa-On Trio -Noreña Suite, 2017 
21st Century Gallery Band -Vols. 1 & 2. 2017 
Ángel Ontalva -Two black holes and a closed door, 2018 
Ángel Ontalva - Songs to say goodbye, 2021
Seaorm - Forgotten shrines, 2022
October Equus - Noches blancas, luces rojas, 2022